Websites are a dynamic tool that can be used to increase revenue and grow business online. You need a web design agency that can get you there. At WCN Digital we create customer-centric websites that will improve your online presence and increase customer retention.
Custom Web Design & Web Development Services:
Web design and web development services go hand in hand with digital marketing efforts to drive targeted traffic to your website and turn that traffic into conversions. Whether you are looking for a better performing website, a branding update, or just need newer technology, WCN Digital can help you.
WordPress Website Development – WordPress CMS websites are our speciality
User Experience – The focus is on your customers and what they need and how they use your website.
Responsive Web Design – Responsive web design is important. All websites created at WCN Digital are easily accessible across all devices.
PPC and Sales Landing Pages – Landing pages that convert to get you more leads.
E-commerce Web Development – Shopify and WooCommerce e-commerce solutions to reach your sales goals.
Conversion Optimization – Site or landing page improvements to increase your conversion rate. Get more customers to follow through with your calls to action.
Website Support Requests
Sometimes you just need a new web form, or need to integrate a few processes, but you don't have the time or the team in house to do it. WCN Digital can handle your website support needs too.
Common Web Development Support Requests
Create new forms
Integrate forms with a CRM (Salesforce)
Help finding the right plugins or apps
Build new web pages
Web banners for ads and promotions
Troubleshooting broken features on your website
General website maintenance
Web Design & Development Process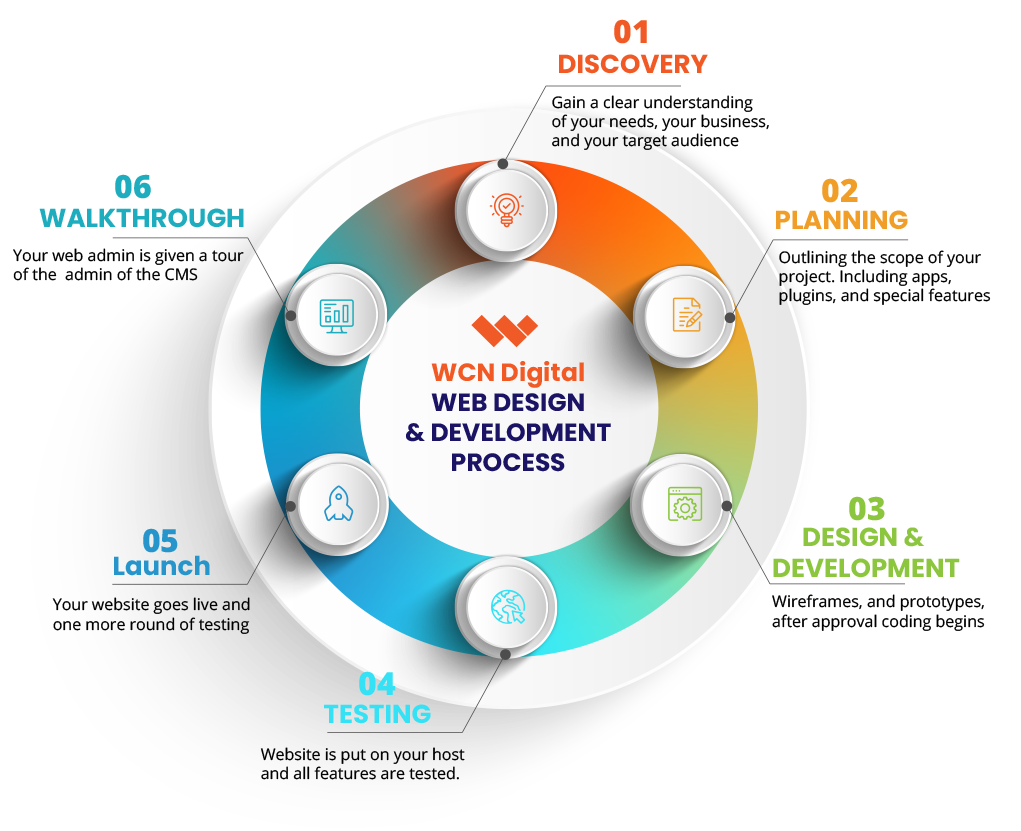 1. Discovery
Any successful web development project starts with a clear understanding of your business, marketing goals, your ideal customer, and the purpose of your website. Discovery is crucial to ensure we are all in agreement on the scope and budget of the project.
2. Planning
Wireframes and outlines for your website design requirements and content needs. This includes any custom add-ons or feature development for your WordPress or Shopify website.
3. Design & Development
Next, we move on to web design and development. During this phase, you will be presented with the design. Once designs are approved and finalized, we start coding. This is where the magic happens and those designs become a functional, interactive part of your business.
4. Testing
Once the site is ready it is set it up at your preferred web host. If you have not selected a host, we can offer recommendations and get it set up for you. All features are tested to make sure everything is optimized and working on the new server.
5. Launch
This is the day we've all been waiting for, your site is ready to go live! This is an all-hands-on-deck situation. Our team will work to make sure the launch goes smoothly and test with you afterward.
6. Walkthrough
Once the site is live we can give your web admin a walkthrough the CMS. The two platforms we work with are WordPress & Shopify. These platforms are very well documented with lots of training resources online. Since Shopify is a cloud based hosted e-commerce solution, they even have free support.
So What's Next After You Launch Your New Website?
Tell Us About Your Web Design & Development Needs
What Our Clients Have to Say About Working with WCN Digital
"They made everything so easy and user friendly and made our website come to life! I would highly recommend!"
Alison K.
Gallery Pastry Shop
"The digital marketing services at Wade Creative have helped us improve our inbound marketing and generate quality leads for our law firm. From SEO to PPC Advertising to Website Design, they have been with us every step of the way. It's a pleasure working with Wade Creative Network!"
Mark M.
Francis Mailman Soumilas, P.C.
"WCN was fantastic! They jumped right in to assist with some website issues we were having and got it done quickly and affordably. Highly recommend these guys!"
Max W.
Humane Society for Hamilton County