E-Commerce Website Design with Your Customers in Mind
How your e-commerce website functions can make or break your online sales goals. At WCN Digital our e-commerce web design and development services are always focused on your customer and conversions.
As more and more people shop online, customers are expecting more from e-commerce experiences. We make sure your e-commerce website delivers what your target audience wants and needs so that you get higher customer retention.
E-Commerce Web Design and Web Development Solutions.
Wether you need to update your current e-commerce website or you want to transition your brochure site to e-commerce we have solutions for you.
WooCommerce & Shopify web development – two of the most popular online shopping platforms available, customization to fit your needs
Responsive Web Design – Your customers will be able to shop from any device.
Simple Product Management – Easily Manage products & inventory.
Shipping Integration – Ship with USPS, UPS, Fedex, or other 3rd party providers.
Email Marketing Integration – Send branded emails to customers to keep them up to date on new products
Create Promotions – Discount & Promo Code that drive sales.
CRM Integration – automatically capture customer and sales data to ensure continued success
Social Media Integration – Feature and Sell products on Instagram, Facebook, and other Social Media.
Payment Processor Integration – Accept credit card payments with several processing options.
SEO Friendly – Built-in Search Engine Optimization tools.


E-Commerce Web Design & Development Process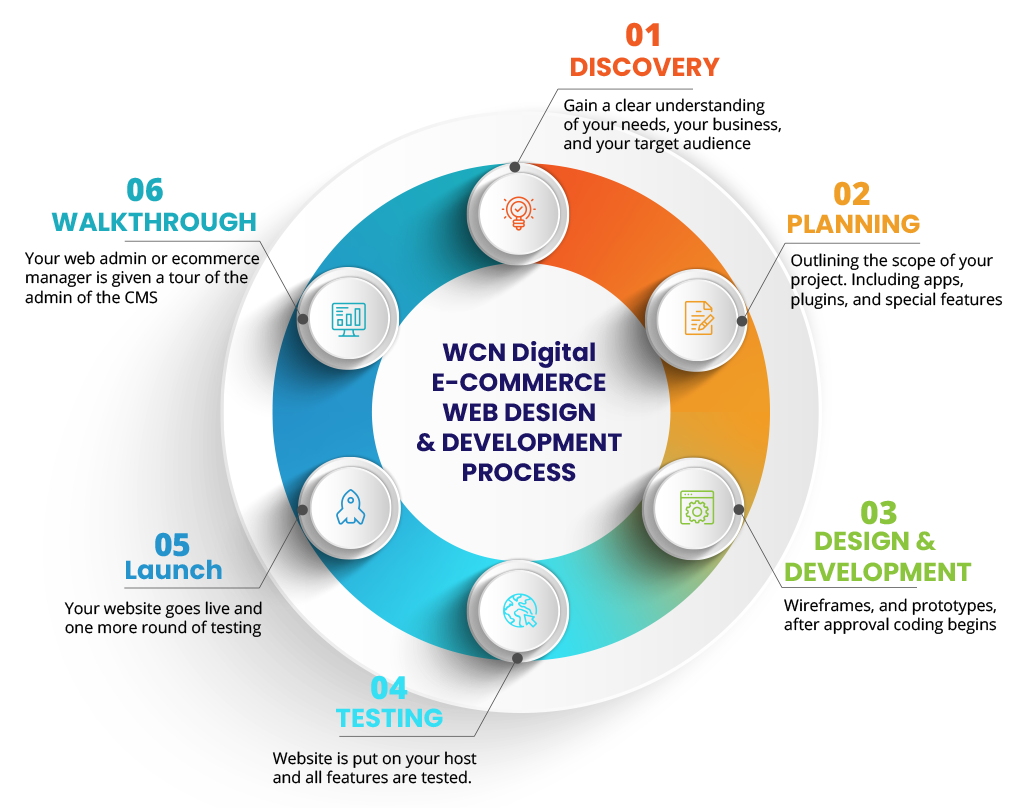 1. Discovery
The discovery phase of your ecommerce project will give us a clear understanding of what your needs are. We will also go over the goals of your online store, and who your target audience is.
2. Planning
The planning phase of the online store development will make sure that we cover all of your content and layout needs. Any apps and plugins that you might need for your ecommerce website will also be chosen at this time. This way we can make sure that everything you need falls within the scope of the project and there are no surprises later.
3. Design & Development
The design and development phase of your e-commerce site is the most fun. This is where it all comes together. You will be presented with prototypes for approval. Once all designs are approved, coding can begin.
4. Testing
At this point the site files will be moved to your host if using WooCommerce. If you are using Shopify for your e-commerce solution, it is already on the host and a second round of testing is not necessary at this point.
5. Launch
Launch day! Your new e-commerce website goes live. All features are tested and one last check to make sure checkout and shipping are smooth for your customers.
6. Walkthrough
If your web admin or e-commerce manager need a walkthrough the admin of the website we are happy to do so. At this time we can answer any questions and show you where you can find support for answers to frequently asked questions. With Shopify you also have access to free chat support, and any apps you use through shopify also come with support.
Next Steps after Launching Your E-Commerce Website
Let's Promote Your Website with ppc advertising and SEO strategies. Our pay-per-click advertising services will help bring your online store instant traffic. The metrics gained from the ppc traffic can help you further understand your customers and their needs. Our SEO services will help your site continue to gain more organic traffic as well.
Great e-commerce design is about more than just designing and building your store. You need to understand your customers and measure performance to get the best ROI.
Conversion Optimization
We will help you gain a better understanding of your customers and give you the information you need to succeed. Even if you already have your e-commerce website online, we can help you optimize your site to increase your sales.
At WCN Digital, we know how to analyze data and test changes to your web site. Conversion rate optimization services ensure that changes made to your website will enhance the user experience and improve sales.
Let's Talk About Your E-Commerce Needs